Challenge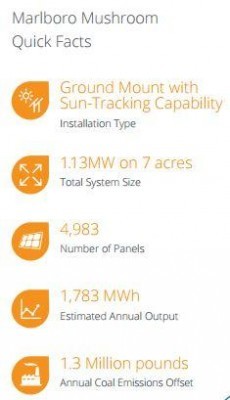 For Marlboro Mushrooms, keeping 100,000 square feet of growing roomsat precise temperatures and moisture levels requires a careful tending ofenergy. The family-owned farm, growing mushrooms since 1910, was lookingfor a reliable, clean energy solution that would keep the farm productive forgenerations to come.
SunPower's Solution
Marlboro Mushrooms set aside seven acres of farmland adjacent to itsgrowing rooms where SunPower engineered, designed and built a 1.13MWground-mount solar installation with sun-tracking capability.
Customer Benefit
Marlboro Mushrooms, which owns the installation, reports that the systemhas delivered on their expectations of reliability, quality and value—performingat or above projections since it was commissioned in November 2011. The solarinstallation produces more than 1,700 MWh of clean energy for mushroomfarming operations each year.
"We were looking for a featureto distinguish us from othermushroom producers. To beable to demonstrate to ourbuyers and consumers ourcommitment to sustainableagriculture through the useof renewable solar energy topower our farm was importantto us."Tom BrosiusOwner, Marlboro Mushrooms
Marlboro Mushrooms is a fifth-generation family farm committedto renewable energy.
Founded in 1910, Marlboro Mushrooms in West Grove, PA, is the oldestcontinuously operating mushroom farm in the U.S., producing more than fourmillion pounds of mushrooms annually. Brothers Tom and Harold Brosiusmanage the family farm.
Mushrooms are one of the most energy-reliant crops to produce. Theyare grown indoors in a carefully controlled 60º high-humidity environmentwhere they double in size every 24 hours. Most of the energy is used for airconditioning and heating, and refrigeration is required for dehumidificationeven in the winter months.
"Mushrooms require a constant back and forth between heating andcooling," explains Tom Brosius, co-owner. "We were looking for a cleanenergy alternative to offset that consumption."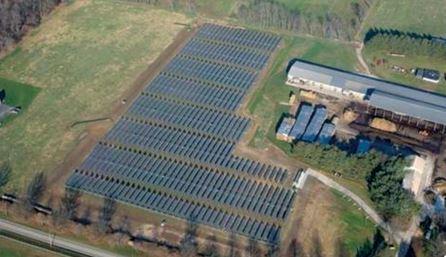 Solar-powered mushrooms: a favorite for retail customers
Marlboro Mushrooms has dramatically reduced its energy costs sincecompleting the installation. In fact, there have been periods in the summermonths when the farm has generated more electricity than it uses. Today, thefarm no longer needs to purchase power from the grid—or worry about howmuch CO2is being emitted because of their energy consumption.
Going solar has also been good for business. Major retail chains havecontacted Brosius because they are interested in purchasing mushroomsfrom the only solar-powered mushroom farm in the world. Food retailersare especially concerned with greening their supply chains with sustainablyproduced products.
"Solar power was anopportunity to demonstrateto our community, and toour customers, that we areprotecting the environment.Solar was the right strategyfor our business. The factthat we're also saving onenergy costs made a goodidea a great idea. And wehave caught the attentionof produce buyers who wantto showcase our efforts."Tom BrosiusOwner, Marlboro Mushrooms
Only SunPower could deliver the right combination of powerand flexibility
The Brosius brothers talked to a number of different solar companiesinstalling solar. But only one made the cut.
"The land we had set aside for the solar installation slopes downward to thenorth," says Brosius. "If we had used conventional solar panels, they wouldhave cast shade on each other during the day. Every other vendor we spokewith recommended a fixed panel system. Only SunPower talked to us aboutinstalling high-efficiency panels with a tracker."
The tracking panels not only eliminated the challenges of shade, they alsoincreased the power generated from the system by an average of 28 percent.
"When we first looked into solar, we were hoping to be able to reduce someof our energy costs," explains Brosius. "SunPower showed us how we couldinstall a solar system that could generate all the electric power we neededto run the farm all year."Today, the farm's 4,983 solar panels generate 1,700 MWh of clean energyevery year—consistently outperforming projections.
The energy the farmgenerates is the equivalent of powering more than 100 homes per year oreliminating over 1 million pounds of burned coal from the atmosphere.Installing solar from SunPower has enabled Marlboro be betteragricultural partners to the community, and by using less energy from thegrid, the homegrown company is doing its share to reduce emissions inEastern Pennsylvania.